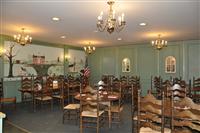 Join us at the Colonial Dining Room for lunch, take away, and specialty sales throughout the year. Join our mailing list to learn about weekly menus, sale menus, and hours of operation.
For Reservations/ Takeout Call 401-236-2655 Staff Extension x7922
To join the Colonial Dining Room email list please send your email address to colonialdiningroom@npsri.net.
Thank you for your continued support.