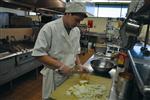 Click for a short video about the Culinary Arts program!
The Culinary Arts and Hospitality Program located at the Newport Area Career & Technical Center, located on the campus of Rogers High School, Newport, Rhode Island, is a multi-year nationally certified culinary arts & hospitality vocational educational and career orientated program affiliated with the American Restaurant Association (NRA) and the Rhode Island Hospitality Educational Foundation (RIHEF).
Students attending the culinary arts & hospitality program at NACTC are students from all area high schools affiliated with the Aquidneck Island Public School Districts; Newport, Middletown, Portsmouth, Tiverton, Little Compton and North Kingston. All students that attend the program have either chosen or are interested in a career in the many career paths in the food service. Students that successfully complete the multi-year program will have a firm understanding of the food service industry and they will be able to continue their career either in the work force or attend a post secondary institute.
All students interested in a career in the food service are encouraged to attend this program. Students attending this program are on a part time basis. Students attending either classes in the morning (AM Classes) or afternoon (PM Classes) will take all their core and general educational classes at their district high schools. This is a career orientated program and it is discouraged to take this class as an elective. Please contact Rogers High School administration for more details on course selection.
The culinary arts program has a complete fully operating professional kitchen and dining room facility. The kitchen and dining room is equipped with state of the art equipment and tools needed for the students' educational experience.
Faculty and staff are highly trained in all aspects of the food service and with many years teaching or hands on experience to help guide the students to an excellent learning experience.
Program Contacts
Phone: 401-848-2471
Chef/Teacher Carroll Webb carrollwebb@npsri.net
Chef/Teacher Matthew Reilly matthewreilly@npsri.net
Colonial Dining Room
Phone: 401-236-2655
Erin Kenny erinkenny@npsri.net
Colonial Dining Room colonialdiningroom@npsri.net