Meet Miss DeWitt
You may see Miss DeWitt teaching orchestra and general music at Thompson Middle School, or teaching orchestra at Pell Elementary School!
Miss DeWitt grew up in Fairfield, CT before moving to Newport, RI for college in 2008. She began playing the viola in fourth grade in her elementary school's music program. Miss DeWitt continued to play the viola in high school and college, was a member of the Tri-M Music Honor Society, and won the National School Orchestra award in high school. She attended Salve Regina University where she continued to play the viola in the orchestra, as well as percussion band. Miss DeWitt graduated in 2012 with a B.A.S. in music education, and obtained her master's degree in music education from Boston University in 2014. Miss DeWitt has been involved in numerous school music programs and other music ensembles including Community String Project of Bristol, RI, RI All-State Senior Orchestra, Newport County Orchestra, Newport Community Band, and teaching private lessons for violists and violinists in the Aquidneck Island area.
In addition to music, Miss DeWitt loves living in Newport and enjoying the area's beaches, restaurants, and coastline. She enjoys swimming, boating, and walking around the city by the sea. Miss DeWitt also enjoys reading, watching TV, yoga, traveling, and spending time with her family and friends.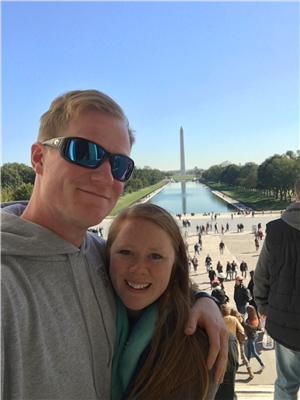 Miss DeWitt and her fiance in Washington D.C.