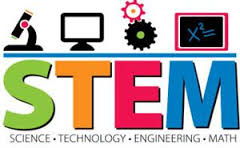 Welcome back! We are excited to begin the seventh year of our STEM program at Pell School.
What is STEM?
STEM stands for Science, Technology, Engineering, and Mathematics. We will be seeing all K-4 students at various intervals throughout the year. STEM classes will be once a week for two quarters. The other two quarters, your child will have a Technology Exploration class. The purpose of our STEM program is to integrate units of study across the curriculum with the real world. We will be doing this through challenge-based learning, science labs, and industry connections. Your child will learn the Engineering Design Process through a series of hands-on challenges.
What is Math Intervention?
Math Intervention is an extention of the regular grade level math course that provides students who need it, additional focused instruction and support. Selection for this extra math support is based on their math STAR Assessment, classroom math scores, and teacher recommendation. We provide the focused instruction in a small group setting. Our goal is to develop and enrich students' number sense, which will in turn help the student be successful in all areas of mathematics. Students will be assessed and progress monitored at the beginning, during and at the end of each quarter.
Pell School is excited to support and improve educational outcomes for our students. We look forward to a great year!
Mrs. Delemos and Mrs. Nordby
"TELL ME AND I FORGET. TEACH ME AND I MAY REMEMBER. INVOLVE ME AND I LEARN."
-BENJAMIN FRANKLIN