Patricia Beede Memorial Awards for Advocacy
The late Patricia Beede was a Newport resident and state-wide advocate for children and youth. She founded the Rhode Island Educational Advocate's Office at Rhode Island College, which support children whose parents are not available to come to school meetings and push for what they need. Ms. Beede served as a long-time voice for children in the care and custody of the state, particularly those children with special needs.
This event is hosted by parents, for parents, through the NLAC in her honor.
NLAC is the Newport Local Advisory on Special Education. This board advises the Director and the Superintendent on matters pertaining to children with disabilities.
2916 Beede Awards Photo Gallery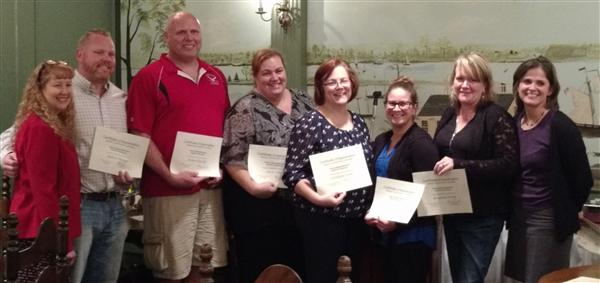 'Speak Up, Even If Your Voice Shakes'
originally published c. 2000 in Teaching Tolerance magazine
http://www.tolerance.org/publication/speak-even-if-your-voice-shakes
Patricia Beede of Rhode Island is an attorney and advocate for children in state care. She also is the single mother of a 13-year-old daughter, Nicole. The family has been dealing with issues of prejudice and bias since Nicole was only one month old, the age at which Patricia adopted her. Patricia is white, and her daughter is African American.
"There have always been the moments I've walked into the room, in a classroom or some other place, and people are surprised because they expect me to be the same color as her," Patricia says. "And then there are the times when a friend will say to Nicole, 'I don't want to hurt your feelings, but are you adopted?'" No matter the intention, those questions do hurt Nicole's feelings, says Patricia. "And there are these assumptions always, like when they do the family tree assignments in school. Having your biological mom is only one of the ways to be (raised), and being adopted is nothing to have to apologize for."
As a white parent of a child of color, Patricia says she has tried to immerse Nicole in various ethnic cultures and taken steps to make sure that Nicole knows and is proud of her heritage. Still, she worries.
"I think I can protect her from racism because I'm this white parent who is vocal in the community and in the school. But I know there is a place where she'll [experience racism], and I won't be around to do anything about it."
Preparing Nicole for those moments is something Patricia says she has tried to do since Nicole was a small child. "Because of what I do for a living, she has been around a lot: She's been to the Christmas parties in the homeless shelter, she's seen the kids who are neglected or abused and who don't have anyone to care for them, the people society looks down on," Patricia says. "I've always thought if you can expose a child to real people, the labels fall off."
A recent incident, Patricia says, proves it may have worked. "I was driving Nicole and some of her friends around. We had passed by a group home, and Nicole's best friend said, in kind of a mocking way, 'That's where those group home girls live.'" Right away, Patricia says, Nicole spoke up, telling her friend, "There's no such thing as 'group home girls'," explaining that those who live in group homes aren't responsible for their situations and that living in a group home doesn't define them.
"I was proud of her," Patricia says. "I once bought her a button that says, 'Speak up, even if your voice shakes.' She put that button on, and I can honestly say that I believe that's how she tries to live her life. She gets it, I think."