As the enrollment of Hispanic and English Learners (ELs) students has increased over the years, RHS now supports about 115 active ELs in the program. To honor the students in our school community, the EL teacher team hosted a National Heritage Month event on October 25. During the event, students shared about their culture, traditions, and heritage.
In celebration, three students were chosen to receive a scholarship to continue the student's dedication to studies/college and career paths of his/her desire. These students are Hector Arnoldo Choquin Jolon, Julio Cesar Lorenzana Velasquez and Merolyn Aquino Beard. The gracious and generous donors include Don & Patricia Andrade and Alicia Cipriano & Bob Walsh.
During Hispanic Heritage month, the school announcements included bilingual information on the history, heritage, and accomplishments of Hispanic and Latino Americans of past and present. Making the announcements even more powerful, EL students were selected to read aloud in Spanish to the school each day. This National Hispanic Heritage Month provides a reminder that our identities are a fabric of diverse traditions and stories woven together and we can reaffirm that diversity is one of Roger's greatest strengths.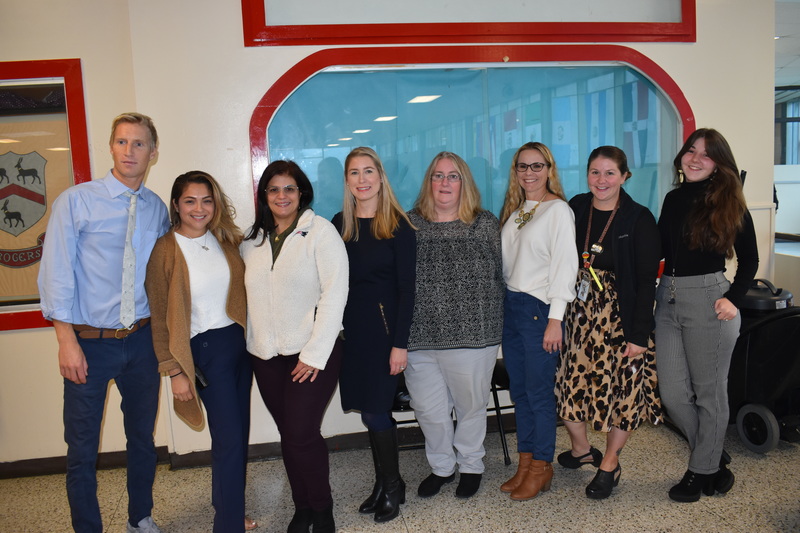 The EL team is comprised of Nick Manson, with administrators Evelyn Folcarell, Ana Gomes, Dr. Ronilee Mooney, Grainne Phelps, Gretchen Catalan, Emily Gauthier, Catherine Sullivan, and Bryan Colahan (missing from photo),