The Rhode Island Association of School Principals has announced two winners of their prestigious Assistant Principal of the Year Awards for 2023. In recent days Rachel Salvatore of North Smithfield Elementary School and Michael Monahan of Rogers High School in Newport were treated to surprise presentations with the students and faculty of their respective schools in attendance.
RIASP has been recognizing an assistant principal for recognition each year going back to the 1980's. Executive director Robert Littlefield explained that it is unusual for the Association to recognize two members. However, after careful examination of all candidates the selection team found itself looking at both an elementary and a secondary leader as their top choice.
"It just made so much sense to recognize both of these extraordinary school leaders who, each in their own right do so much for the students and families of their schools. The assistant principal is an essential, though often overlooked, figure in a school and we found in Rachel and Mike two people who are invaluable to the teachers, students, and parents. They epitomize the position of selfless school leader who is integral to the success of students."
Rogers assistant principal Monahan is in his fifth year at the school after spending eleven years in a similar position at nearby Portsmouth High School. His role involves supporting students and families in academic and social success but also building the master schedule, supporting English Language Learning for the school's growing population for whom English is not the families first language, bolstering efforts to improve attendance, and supervision at the school's many extracurricular activities and athletics. Upon receiving a call of a faux disturbance in a far corner of the school, Monahan walked through a gauntlet of students offering high-fives and shouting words of encouragement and appreciation where he was greeted by family to receive his award.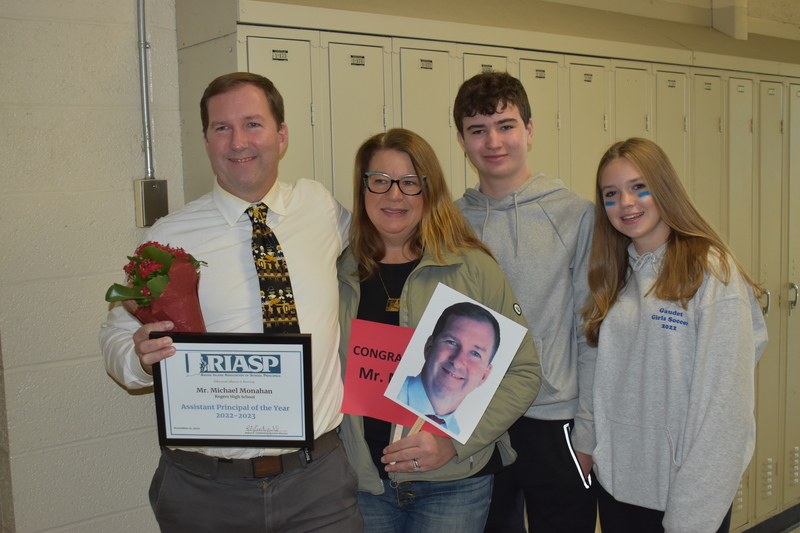 In nominating Monahan, the school's entire counseling staff submitted a letter saying, "Michael's meaningful connections with staff and students have heavily influenced the climate in our school. He has made students and staff feel welcome on a daily basis and has been a great mentor for all of us. His problem solving skills are exemplary, as are his abilities and willingness to identify and support students."
Rogers principal Jared Vance echoed those feelings in saying, "Mike has been pivotal in addressing our issues of equity and access for our black and brown students. Mike brings an empathetic lens to this work and is able to reflect, process and make change. He is able to push the thinking of members of our school community in order to support the diverse population at Rogers High School."
Both Salvatore's and Monahan's names will be submitted to their respective national organizations in the Washington, DC area for recognition later in 2023 with their peers from across the nation as well as at the RIASP annual summer conference at the University of Rhode Island in August.